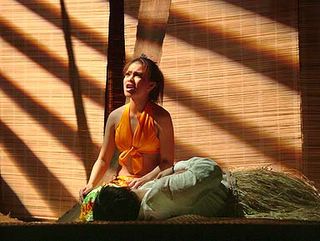 Raki Vega
(Ti Moune) and
Jeffrey Hidalgo
(Daniel) in 'Once on This Island'
-- all photos, Ben Razon, 2005
During this summer of hell on a relentlessly hot sunday afternoon as I was resting at home, the text message came in from dodo lim. It read 'don't forget, once on this island shoot at RCBC theater, tuesday 7pm'. I had been doing the cast pictures for this musical that he, denisa reyes and bart guingona were producing, and they were finally set for the dress tech run of the show on stage before its first showing on friday of this week, and it would mark the end shoot for my work with them ever since they began planning the show's staging since last march. I calmly texted back to dodo, 'I'm broke, dude.' And to which I got the smiley reply, 'Ok, I'll give your final payment in cash. :)'
Such is work and passing assignments nowadays for a photographer who, like most, is looking for not just the typical paying shoot but more the kind of project where visual and technical challenges tickle the eye. I mean, what's one to do in a godforsaken city that's on fire in the middle of a heat wave? Shoot stupid sweaty weddings or water cannon rallies? Screw that. But the crew and cast who've put together this local remake production of this
ahrens and flaherty
hit
broadway musical of a 'little mermaid'
twist
have nicely outdone themselves, perhaps because all involved have taken on the theme and grist of the material in a pleasantly interested, selflessly cool and fun way. A timely and visually refreshing, musically enjoyable show all around.
-- ben
The
'Once on This Island'
cast consists of Ring Antonio, Cathy Azanza, May Bayot, Michael de Mesa, Bituin Escalante, Jeffrey Hidalgo, Menchu Lauchengco, Kristian Lei, Red Nuestro, Jett Pangan, Bodjie Pascua, Radha, Gala Sanchez, Raki Vega, and Michael Williams. The show runs from May 13 to 29 on thursdays, fridays and saturdays at 8pm, and sundays at 3pm at the Carlos P. Romulo Auditorium, RCBC Plaza, Makati. Call Ticketworld 8919999 or Silang Communications 7517646 for tickets.