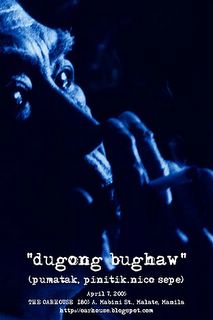 Siguro nalulungkot si Nico sa UK? (Is our friend and colleague Nico Sepe missing us here?)
`Tis probably the reason why he rounded up some of his old friends and on the 7th of April, his birthday, everybody will be at the Oarhouse...except of course for Nico.
What he did was print some 30 or so odd portraits and toned them in blue. Aptly titled "Dugong Bughaw (pumatak,pinitik.nico sepe)", the pictures ironically show not a hint that the artist is in the land of the "blue blooded" but to pay tribute instead to some of the people whom he regards as "nobility".
Nico migrated to the UK along with his family in 2003 but remains connected to his roots through the web and through his craft. The exhibit will run the whole month of April and everyone is invited to meet up with some old friends. And although Nico will be there only in spirit, the spirits would be there to ensure a lively retelling of timeless stories.